January 20th, 2013
August 5th, 2012
Happy birthday Baron. RENEW! RENEW! RENEW!
January 2nd, 2012
Thanks to Santa's having brought my son an X-box 360, during our breaks from saving the ETO from the Nazis, I've been helping the good folk of Big Town with their Mutie problem.
December 31st, 2011
Durham police have uncovered a sex slavery cult based on John Norman's Gor series in Darlington.
[
read more at the beeb ...
]
December 25th, 2011

Posted via m.livejournal.com.
December 20th, 2011
Watching the Today Show this a.m., I saw an interview w/ Bill Clinton in which he listed his top 5 "holiday books." They were Jerusalem by Simon Sebag Montefiore, Lincoln by David Herbert Donald, Meditations by Marcus Aurelius, The Way of The World by David Fromkin, and The Cure at Troy by Seamus Heaney.
It's really hard to imagine any of the Republican POTUS hopefuls with a list like that with the exception of Mr. Newt and possibly Dr. Paul.
To quote Dr. Bunsen Honeydew, "What a sad day it is."

Posted via m.livejournal.com.
December 17th, 2011
Which movie always makes you cry?
Gettysburg
September 28th, 2011
Playbill reports that Qui Nguyen's
She Kills Monsters
, a comedy about us folks who play D&D, will open on November 17 at The Flea Theater.
The play focuses on Agnes who "is finally leaving her childhood home following the death of her totally weird sister, Tilly. When she stumbles upon Tilly's Dungeons & Dragons notebook; however, Agnes embarks on an action-packed adventure to discover more about her sister than she previously cared to know. A octane comedy fraught with hostile faeries, randy ogres, and '90s pop culture."
The Flea will also host a D&D-inspired art exhibit: "Doomslangers," artist Casey Jex Smith's works focusing on a "D&D adventure to save the mythical city of Dingershare from the evil Lord Ricaek."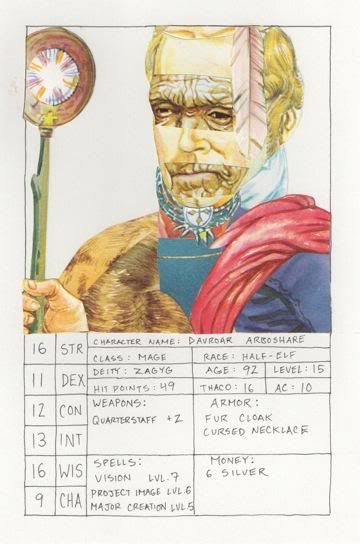 Casey Jex Smith
Davroar Arboshare 2010
For more info, tickets, etc., go to
theflea.org
.
h/t
Playbill.com
Links